It's understandable; you're on high alert for marketing mumbo-jumbo trying to mislead you into purchasing something of lower value at a higher cost. You see ads that promise amazing results followed by a flash of small print that makes it clear you should not expect similar results in real life. You see before and after shots that use angles and lighting (if not photoshop entirely) to embellish the contrast between the two. You purchase an item based on a picture from the website, only to realize it's nowhere near what you expected. On a side note, I ordered $12 tacos in Vegas once, based on a menu picture, only to realize they had zoomed in on the tacos and the real ones only required a thumb and pointer finger to pick up. Fancy, but I was left very hungry and quite bitter. So, rightfully, we're all on the lookout these days, and phrases like "certified pre-owned" make us jumpy at what that really means.
So, what is "certified pre-owned"? Is it just a fancy way of saying "used", a way of overcharging for a less valuable item? Well, when it comes to Advanced Office, no; a used machine and Certified Pre-Owned (CPO) machine are vastly different offerings. Let's start with what a used machine would be.
A strictly "used" machine is typically just that; a unit that has served out the previous period of a lease with another customer, on average between four or five years, and at the conclusion of the lease period it was returned to the leasing company under the contract terms. A dealership is offered an opportunity to purchase these devices and resell them as used or scrap them for parts to keep older equipment in the field still functioning for their customer base after production of those parts has ceased at the manufacturer level. If the dealership defers, then a wholesaler would be offered the equipment for similar purposes.
But a Certified Pre-Owned unit is very different. While these machines have also previously been in the field, they cannot have more than 90 days' worth of usage on them to even be considered for our program. 90 days' worth of usage is calculated based on the manufacturers recommend monthly volume for a specific model, so these machines have incredibly low meters to begin with.
For those machines that pass the meter test, they are then inspected for any exterior blemishes or damage. Anything that cannot be replaced to a like-new condition is eliminated from the list immediately.
Once it passes its external review, our certified technicians then go through a 54-point inspection, which includes resetting all factory defaults, wiping all memory from the hard drive, testing all internal components and assemblies and replacing with brand new components if any fail to meet our exacting standards. Finally, we take care of fixing any of those minor cosmetic blemishes to bring the equipment exterior up to like-new status.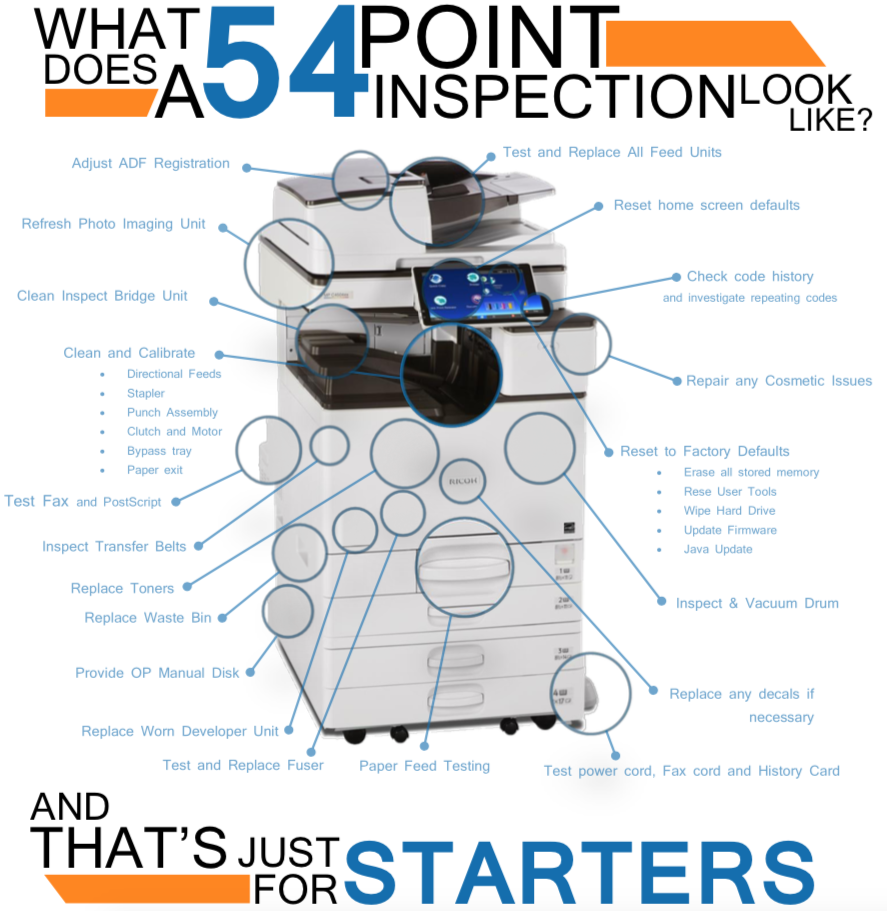 As mentioned, this work is all completed by our own OEM trained technician team, and by that we mean a technician who has undergone rigorous testing and certification by the original equipment manufacturers themselves. We go through this comprehensive process, taking the time to make sure these machines are in top condition before leaving our shop, because we guarantee complete satisfaction once they are installed at a customer site, and we back that up ourselves.
Our process ensures that any product Advanced Office sells under the Certified Pre-Owned program is of the same standard as a brand-new machine rolling off of the factory floor. Because of this, the leasing companies we partner with all provide the same rates as brand-new machines for any Advanced Office CPO equipment. We also provide the same service rates for aftermarket support as we would on a brand-new device, because as far as we're concerned, a Certified Pre-Owned device is as close to New as you can get without actually pulling it out of the packaging.