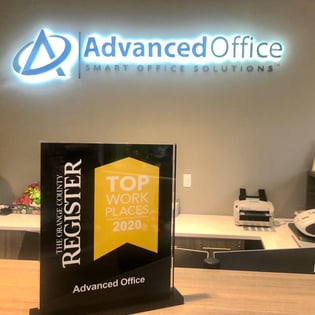 In a year that has been defined by chaos, confusion and uncertainty, among the many concerns topping the list for most Americans has been employment. Not only the fear of job security, but fear of cutbacks, exposure in the workplace, and even the fear of being able to work effectively in a remote environment. But in the midst of all of this concern, Advanced Office was able to do something that only a very small number of Orange County companies were able to achieve this year; recognition from the Orange County Register as a Top Workplace for 2020.
This annual list is comprised of 105 honorees this year and driven exclusively by anonymous survey metrics submitted by actual employees of the nominated organizations. Questions revolved entirely around the culture of the business, the quality of leadership and what it's like to be an employee of that company. The nature of the questions involved makes this award an exclusive reflection of the employment experience at Advanced Office and speaks volumes about the culture that has been instilled and grown here over the past few years.
Advanced Office has engaged in a deliberate and strategic effort to codify and build a company culture that is strong, and employee focused. Intentionally developed by interdepartmental employees themselves, this cultural identity has been rigorously supported from the upper echelons of management and has taken hold in every rank of the organization.
Advanced Office takes great pride in our employees and in the environment they've helped to create here. With the need to adapt many positions to work remotely for much of this year, AO has continued to seek ways to engage these team members and continue supporting the culture that has become a bedrock of this company. We are extraordinarily proud to have earned this recognition for 2020, but we are more resolute than ever to continue the effort of providing an exceptional place for people to come and work. We celebrate the 2020 achievement, but we turn our focus now to earning it once again in 2021.
If you would like to explore opportunities to join the Advanced Office team, please see our career page at goadvanced.com.
To see the complete list of this year's winners, you can go to:
https://www.ocregister.com/2020/12/11/top-workplaces-2020-see-the-list-of-orange-countys-winners/