Ricoh Toner Cartridge / Container Recycling Program
RICOH® recommends that our customers utilize their local recycling resources whenever possible to reduce environmental impact and encourages recycling of end-of-life consumables and supplies. If local recycling is not available, our Toner Cartridge/Container/Maintenance Kit Return Program makes returning the items easy.
How to Return Your Used Ricoh, Savin, Lanier Consumer Replaceable Items
Ricoh Americas encourages recycling of all end-of-life equipment and supplies. Our Toner Cartridge / Container / Maintenance Kit Return Program makes it easy by simply re-using the replacement cartridge box as a return package.
Based upon the type of product(s) you possess, there are two different preparation methods used for returning consumable items:
For those cartridges that have UPS or FedEx shipping labels inside, remove the label from the box. Place the used cartridge in the box and tape the pre-paid shipping label to the outside of the package. Please utilize the return instructions on the form.
For those cartridges and maintenance kits that DO NOT have UPS or FedEX shipping labels inside the box, click the link below marked Prepaid Shipping Label and print out a pre-paid shipping label for return of the item. Once printed, tape the pre-paid shipping label to the outside of the package. Please utilize the return instructions on the form.
Instructions: How to Prepare Materials for Shipment
To help further reduce the overall energy use and CO2 impact associated with the return transportation process, whenever possible, use the instructions below to consolidate shipments.

Please tape multiple used toner cartridges (in their cartons) together (quantities may vary).
Note: See size guidelines below.
Or, place multiple cartridges in a larger carton (tape all seams to prevent leakage).

Note
: The dimensions of the return package should not exceed maximum parcel limitations:
Packages can be up to 165 inches (419 cm) in length and girth combined.
Girth = (2x Width + 2x Height)
Packages can be up to 108 inches (270 cm) in length.
Weight should not exceed 25 lbs.
Note: Other return instructions in this box may be outdated information.
Next, tape the pre-paid shipping label to the package made above. Drop the package off at a UPS shipping location or include it with your next pick-up or drop-off at your facility.
Note: If consumer calls for a UPS pick up for this specific item, cost is borne by consumer.
Lexmark Toner Recycling
Lexmark Cartridge Collection Program (LCCP)
Lexmark is dedicated to environmentally friendly business practices. We encourage customers to do their part by following the steps below to recycle toner cartridges.
---
Cartridge Recycling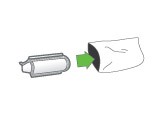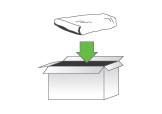 Step 1: Package It
Place the used cartridge in the bag from your new cartridge.
Step 2: Box It
Place the bag containing your used cartridge into the empty box from your new cartridge. Tape the box closed.
Step 3: Label It
Attach the return label included in the box or printed from Lexmark's web site.
Step 4: Ship It
Place your cartridge for return pick up by the designated carrier.
Kyocera Toner Container Recycling (TCR) Program
The KYOCERA TCR Program provides a convenient disposal solution for environmentally conscious customers who want to recycle their KYOCERA toner and waste containers but cannot do so in their local community.
All KYOCERA manufactured toner containers and waste containers may be shipped to the following address by UPS, FedEx, Regular US Mail and shipments that are sent by LTL Truck.
KYOCERA Toner Container Recycling Program
2051 Meridian Place
Hebron, KY 41048
The KYOCERA TCR program has been designed for original KYOCERA toner containers only. Any non-KYOCERA cartridges will be returned to the sender at the sender's expense.
If you have any additional questions, please feel free to contact KYOCERA Customer Service by phone at 1-866-596-2372 or via e-mail at support@da.kyocera.com.
FOR LTL SHIPMENTS ONLY:
Shipments that are sent by LTL Truck will need prior notification by contacting Dan Huth via phone: 859-394-8316 or email: dan.huth@ctlus.com.
Instructions on How to Return Toner Containers or Waste Toner Containers
Use only the packaging from your new toner or waste container. Do not use any other packaging.
Place the used toner container or waste container in the plastic bag provided, and seal it. Place the plastic bag in either the new carton or your original carton and seal it with tape. If a plastic bag is not provided, seal the waste container with the seal provided on the container.
If necessary, use bubble wrap or old newspaper to cushion the container in the original packaging, to prevent damage during shipping.
All shipping costs will be incurred by the customer. There is no charge for the recycling.